Ocean Beach Mobile Screen Repair
Ocean Beach window and door screen installation and repair services.
Book Now
Ocean Beach Window and Door Screen Repair Services
Since 2003, Kelly's Mobile Screens has provided thousands of on-site window and door screen repairs in Ocean Beach and surrounding communities. Our prompt and professional window and door screen repair services are conducted at your home, while you wait, using the highest quality materials. Each window and door screen replacement or repair is carefully crafted and reviewed for quality before re-installation.
If you live in Ocean Beach we can help you repair or replace your damaged screens including but not limited to;
Retractable Screen Doors
Sliding Patio Screen Doors
Swinging Screen Doors
French Door Screens
All types of Window Screens
You have several choices when it comes to selecting the appropriate window or door screen material. The Kelly's team can help you identify the best window and door screen material for your application including;
Standard fiberglass mesh
Invisible, low-profile Phifer UltraVue® mesh
Thicker & stronger TuffScreen® for animals and kids
UV Protective SunTex 80® mesh for sun deterrence & artificial turf protection
Ocean Beach Screen Repair Gallery
We love our local Ocean Beach customers.
Here is what they have to say about our services.
Great Experience
I had a really great experience with Mobile Speed Screen. From the Office Staff to the Workmanship everything was great. I highly recommend this company.
True Professionals
From the moment you call for an appointment to the successful end of the job, everything is absolutely seamless. You don't need to do anything but explain what you want done. Kelly will do all the rest. quickly, efficiently and courteously. In other words, professionally. Oh, and, but the way, always at a fair price. Can't recommend him enough.
Awesome Job
Kelly… (And Carole) ! Could not have been nicer and more professional. Within a couple of weeks of setting up my installation appointment , the screen windows and 2 screen doors in my sunroom, were replaced transforming the space from worn, torn and unsightly to beautiful and fully functioning. My sunroom is now a relaxing space to take in the wonderful California weather after a long day at work. Glass of wine, feet up…..Awwww yes. Cheers and Thanks guys.
Mobile Screen Repair Areas of Service in San Diego County
Though we are based out of Encinitas, we service the majority of San Diego county with our mobile screen repair trucks. Check out the locations below to see if your residence or commercial building falls within our service area – please note that even if your city, neighborhood, or zip code is not listed below it doesn't mean we won't come to you! Give us a call to inquire at 760-525-0990 or email us for a quote.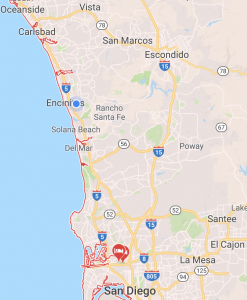 Mobile Speed Screens, Inc has proudly served San Diego County since 2003.
Call us about your screens and screen doors needs: